Slowly we approach the middle of the year during this 2020 … what happened to us? After a very optimistic first post, reality forced us to adapt, find out everything in the next article.
The COVID-19 pandemic has affected us all changing our daily lives to a great extent, in our case the change was more complex. Having the possibility of attending various events related to the video game industry in the United States a person from our team traveled, while the expansion of this pandemic was taking place… despite the fact that the events were canceled some new contacts were made likewise but at the time of returning due to the various measures that were taken in Argentina regarding the pandemic, our traveler was stranded in the United States waiting to be able to return…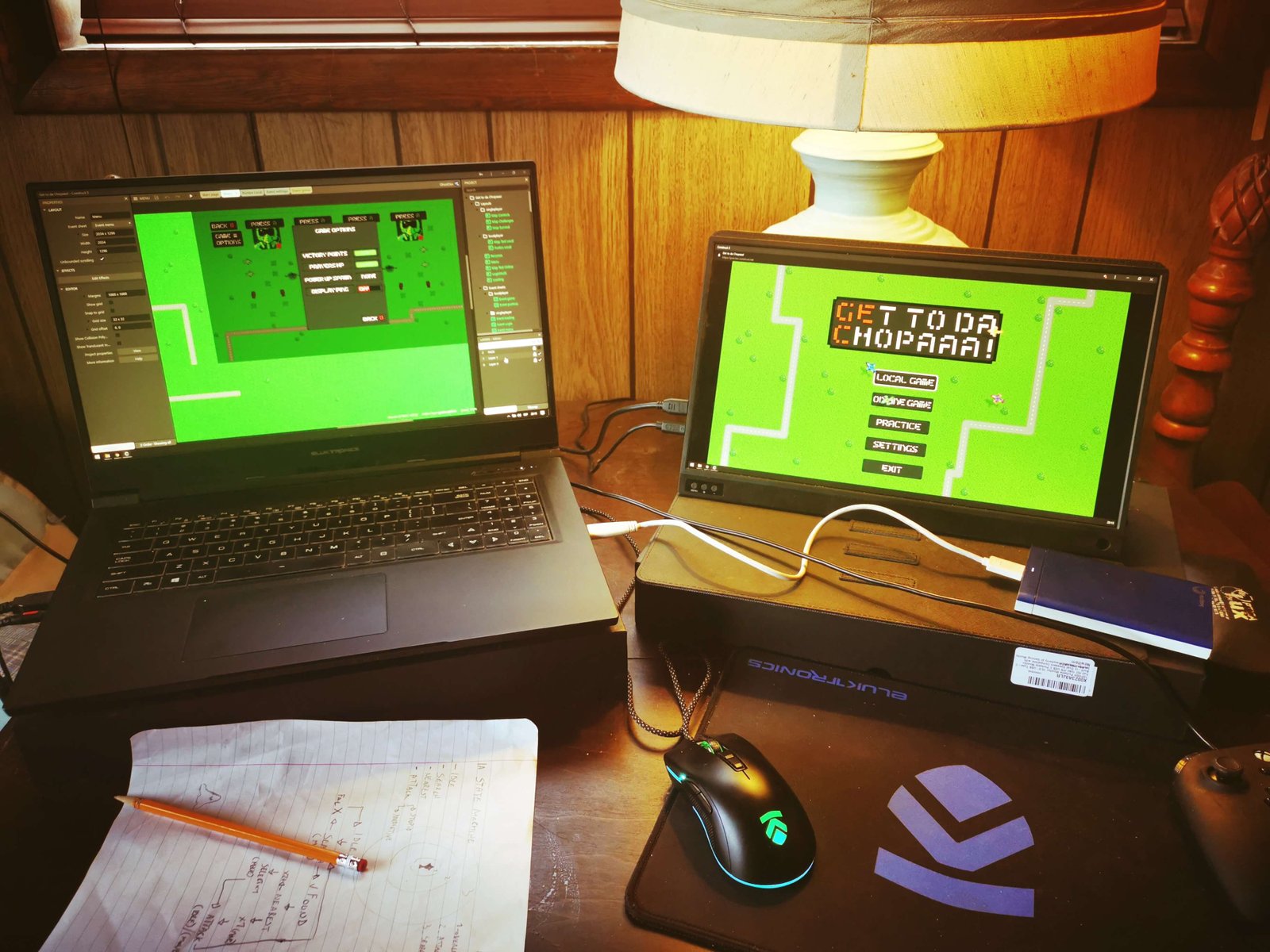 Workspace in Oregon – United States – Game designer
Workspace in Concordia – Argentina – Programmer
Working remotely is not uncommon for our team but with a greater time difference, communication and responsibilities in relation to the pandemic, our approach to work shifted to prioritizing outsourced or individual work in relation to each of the members of Ghost Creative Studio.
To a large extent our lack of communication on our social networks is due to this our own projects as a studio continue… but at a very slow work rate, also giving rise to individual mini projects to help release stress in this very difficult situation.
Workspace in Paraná – Argentina – Illustrator
Workspace in Paraná – Argentina – Musician
GET TO DA CHOPAAA! A GAME + MUSIC TO PASS THE QUARANTINE
As we worked on a variety of games in this pandemic, a small project to play among the people we are quarantining was born. Get to da Choppa! It is a game for 4 players locally that can be played with keyboard and controls. It is in a very early stage of development but it is available to download for free from the following link: Get to da Chopaaa!
The game is for windows and at the moment it is only a side project. We leave you a small gameplay of the game that we hope will motivate you to download and try it!
And to finish this post on our youtube channel, we prepared a small playlist (for the moment) of music from our games, to hang out during this quarantine, don't forget to follow us, for new updates, videos and music .
Gameplay Get to da Chopaaa! Early access
Music section on our youtube channel